Crafts that Unite, Heal, and Last
Powered by youth, led by Ludmila Christeseva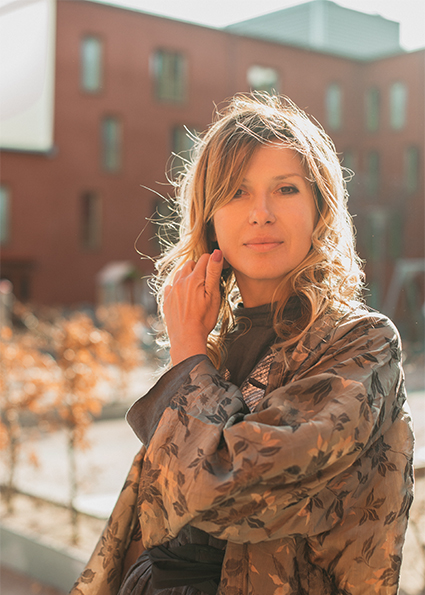 Ludmila Christeseva, an accomplished artist and curator, has sparked transformative change through international projects that amplify female voices in the arts.
In 2022, she boldly declared, "I do not have the right to paint in the shadow of war!" Turning her studio, Artten, into a refuge became an act of compassion—a sanctuary for displaced mothers and children from Ukraine.
Initiating public textile workshops on camouflage net production, Ludmila served Swedish FIka with a noble goal: saving lives in Ukraine. This endeavor birthed "Crafts that Unite, Heal, and Last," a textile movement for peace. Crafts and creativity became the universal language, uniting and supporting one another towards new hopes, dreams, possibilities, and well-being.
In 2023, Ludmila founded the NGO Artten Foundation, continuing her mission to provide meaningful opportunities for women and children from Ukraine. Diverse activities unfold at her artist studio on Artillerigatan 10 in Stockholm, hosting workshops, courses, and study circles. This initiative not only facilitates integration into Swedish society and the workforce but stands as a powerful testament to the resilience of the human spirit.

Committed To Empowering Youth
A pivotal aspect of the Artten Foundation's charitable endeavors is to empower youth participants by letting them organize and host public presentations at museums, fairs, and conferences. Our exhibitions and workshops are highly engaging, as we strive to exchange knowledge and experiences, contributing to the empowerment of women and children.
Committed To Empowering Women
Ludmila Christeseva has developed a broad professional network in Sweden and abroad. In her curatorial work, she weaves together different actors and disciplines enabling women to meet and support each other. Her institutional exhibitions include Armemuseum, Livrustkammaren, Nordiska Museum, Swedish Embassies around the world and collaborations with local cultural institutions.
In recognition of her significant impact and contributions in fostering inclusivity and allowing more people to experience the transformative power of art, Ludmila Christeseva was nominated for the Nelson Mandela Prize. Moreover, she won the prestigious Impact of the Year 2023 award by IHM Impact Awards, cementing her dedication to making a positive change through her artistic initiatives.
PRESS
Gul&Blå: hela Sverige flätar, 2023
https://sverigesradio.se/artikel/har-ska-gamla-blagula-tyger-formas-till-protest-mot-kriget
Livrustkammaren 2023
https://sverigesradio.se/artikel/art-by-ukrainian-refugees-features-at-stockholm-design-week
https://viewstockholm.com/ludmila-christeseva/
Workshops at Artten Gallery 2022
https://www.svt.se/nyheter/lokalt/stockholm/ukrainska-flyktningar-malar-agg-for-den-ortodoxa-pasken
Hantverk som räddar Liv
https://www.svt.se/nyheter/lokalt/stockholm/stockholmare-tillverkar-kamouflagenat-for-den-ukrainska-armen
2016 Dagens Nyheter, Swedish daily newspaper. "Fashion wakes memories" http://www.dn.se/kultur-noje/konst-form/mode-vacker-minnen/
2016 Odalisque magazine, a publication about fashion and photography. "Remembering through clothes" by Anne van Beers. http://www.odalisquemagazine.com/articles/2016/06/04/remembering-through-clothes-written-by-anne-van-beers
2015 The Astana Times, "Swedish Artist Explores Cultural, Gender Evolution in Exhibit at Kulanshi Gallery", Michelle Witte. http://astanatimes.com/2015/06/swedish-artist-explores-cultural-gender-evolution-in-exhibit-at-kulanshi-gallery/
2012 Idäntutkimus, journal for Eastern European Research, Finland.
http://www.helsinki.fi/idantutkimus/arkisto/2012_3/it_3_2012_christeseva.pdf
Read more on wikipedia
https://en.wikipedia.org/wiki/Ludmila_Christeseva